New link in the top of page "IRC Chat".
Cyro Xero
Total posts
1778 (0.36 per day)





Total threads
116
EXP
Level: 83
EXP: 5245971 (for next level: 186250)
Gain: 4425 EXP per post, 161.278 seconds to gain 1 EXP when idle
User rating
10 (1590/1590, 3 votes)
Registered on
02-23-05 12:18 PM (4896 days ago)
Last post
02-14-17 06:53 PM, in Happy birthday Rogue! (General Chat)
Last activity
05-13-17 02:13 AM
Contact information
Homepage
ICQ number
AIM screen name
Cyro Xero
Misc
Timezone offset
13 hours from the server, 13 hours from you (current time: 07-22-18 06:24 AM)
Items Per Page
20 posts per page, 50 threads per page
Name Change History
View History
Block Layout
You must be logged in the block this user's layout.
RPG status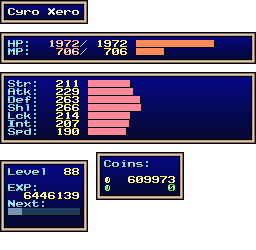 Personal information
Real name
Tom
Location
Minnesota!!
Birthday
Saturday, February 7, 1981 (37 years old)
User bio
\r\n
---
\r\n
\r\n\r\n\r\nCyro Xero\'s Profile Updates\r\n\r\n

\r\n10/20/2011- Added 3 new achievements to Board Accomplishments list: 5 board run sprees; Made 1 post at a board and left; Acquired 500,000+ money at a board.\r\n\r\n9/25- Added picture of self to profile, for the first time in over 6 years of message boards. \r\n\r\n9/15/09- Added Bio to Vizzed Forums. Changed picture for puzzle flash and trippy image. Move your mouse around on int to create an effect.\r\n\r\n10/4- Changed puzzle picture. Added trippy image. Move your mouse around on it to create an effect.\r\n\r\n10/1- Updated puzzle and changed picture. You guys will like this one.\r\n\r\n5/24/08- Turned to Chapter 21 of \"Story of My Life\" series\r\n\r\n12/13- Took out TCG of Colors\r\nReplaced idea \"Board Scavenger Hunt\" to \"Board Cards Quest\"\r\nHighlighted new board accomplishment: 4 years of board time- 58 total\r\n\r\n11/4- Turned to Chapter 20 of \"Story Of My Life\" series\r\n\r\n10/31- Added new view number to list: 1224333\r\n\r\n9/12- Added new view number to list: 956777\r\n\r\n8/24- Put up puzzle flash for members and guest to complete.\r\nMade Chrono Break ad image into water wavy image.\r\n\r\n7/31- Added character ability message with Sim Battle stats\r\nPut up \"coming soon\" ad for profile renting space\r\nAdded miscellaneous text below profile renting space ad.\r\n\r\n7/12- Put up \"Spell of the Moment\" #22: Sand Stream\r\nPut up \"Anime Girls\" picture #17\r\n\r\n6/18- Put up \"Spell of the Moment\" #21: Evil Wave\r\nPut up \"Anime Girls\" picture #16\r\n\r\n5/28- Put up \"Spell of the Moment\" #20: Divine Laser\r\nPut up \"Anime Girls\" picture #15\r\n\r\n5/13- Put up \"Spell of the Moment\" #19: Xenoflect\r\nPut up \"Anime Girls\" picture #14\r\n\r\n5/6- Put up \"Spell of the Moment\" #18: Geyser\r\nPut up \"Anime Girls\" picture #13\r\nAdded new accomplishment to Board Accomplishments: 250,000 money- number from 89 to 90\r\nHighlighted new board accomplishment: 250,000 money- 57 total\r\nChanged total number magic spells to 204\r\n\r\n5/2- Added new veiw number to list: 42724\r\n\r\n4/28- Put up \"Spell of the Moment\" #17: Gust Shot\r\nPut up \"Anime Girls\" picture #12 \r\n\r\n4/19- Put up \"Spell of the Moment\" #16: Pulsar\r\nPut up \"Anime Girls\" picture #11 \r\n\r\n4/12- Put up \"Spell of the Moment\" #15: Apocalyptic\r\nPut up \"Anime Girls\" picture #10\r\nTurned to Chapter 19 of \"Story Of My Life\" series\r\n\r\n4/3- Put up \"Spell of the Moment\" #14: Blast Core\r\nPut up \"Anime Girls\" picture #9\r\n\r\n3/29- Added new view number to list: 1756456\r\n\r\n3/27- Put up \"Spell of the Moment\" #13: Shadow Star\r\nPut up \"Anime Girls\" picture #8\r\n\r\n3/20- Put up \"Spell of the Moment\" #12: Black Wind\r\nPut up \"Anime Girls\" picture #7\r\nTurned to Chapter 18 of \"Story Of My Life\" series\r\n\r\n3/9- Put up \"Spell of the Moment\" #11: Black Wind\r\nPut up \"Anime Girls\" picture #6\r\n\r\n3/7- Added first view number to list: 1575700\r\nAdded new view number to list:1575705\r\n\r\n36- Updated Sim Battle Statistics\r\n\r\n3/4- Turned to Chapter 17 of \"Story Of My Life\" series\r\n\r\n3/3- Made \"Anime Girls\" banner into a link\r\n\r\n3/2- Put up \"Spell of the Moment\" #10: Boulder\r\nPut up \"Anime Girls\" picture #5\r\n\r\n2/23 - Transferred bio to XeoGaming Forums\r\n\r\n2/22- Put up \"Spell of the Moment\" #9: Void\r\nPut up \"Anime Girls\" picture #4\r\n\r\n2/16- Put up \"Spell of the Moment\" #8: Fire\r\nAdded SotM button link to \"Spell of the Moment\" History page\r\nPut up \"Anime Girls\" picture #3\r\nAdded endpoint to SotM number\r\nAdded messages to \"Anime Girls\" section\r\n\r\n2/15- Added new view number to list: 110000\r\nAdded new view number to list: 110011\r\n\r\n2/9- Added new view number to list: 104401\r\n\r\n2/8- Put up \"Spell of the Moment\" #7: Ion\r\nPut up new anime picture\r\nMade anime picture into series titled \"Anime Girls\"\r\n\r\n2/1- Put up \"Spell of the Moment\" #6: Fantasy\r\nAdded new image: Chrono Break poster\r\nAdded new view number to list: 93456\r\n\r\n1/25-Put up \"Spell of the Moment\" #5: EMP\r\nUpdated Sim Battle Statistics:\r\n\"Battles Currently Engaged In\";\r\n\"Strongest Weapon Currently Using\";\r\n\"Number Of Different Weapons Used\"\r\n\r\n1/20- Added new view number to list: 65656\r\n\r\n1/17- Put up \"Spell of the Moment\" #4: Microwave\r\nChanged \"Scenes from \'Destiny\" scene. #4\r\nTurned to Chapter 16 of \"Story Of My Life\" series.\r\n\r\n1/16- Highlighted \"Met more than one person from 1 or more boards\" as accomplished in Board Accomplishments list.\r\nChanged number of accomplishments from 55 of 89 to 56 of 89.\r\n\r\n1/13- Added new veiw number to list: 45454\r\n\r\n1/12- Added new view number to list: 44099\r\n\r\n1/7/05- Put up \"Spell of the Moment\" #3: Ground Zero\r\nChanged \"Quote from my Story\" scene.\r\nChanged \"Quote from my Story\" to \"Scenes from \'Destiny\'\".\r\n\r\n12/31- Added new view number to list: 29692\r\n\r\n12/29- Added new Blue TCG card (#2) to TCG list.\r\nTurned to Chapter 15 of \"Story Of My Life\" series.\r\n\r\n12/27- Fixed the \"spacing x2\" errors in bio caused by administrative profile editing.\r\nAdded new veiw number to list: 23432\r\n\r\n12/25- Gave Red TCG Card to Elara for trading.\r\n\r\n12/23- Highlighted \"Pass Board Owner In Post Count\" as accomplished in Board Accomplishments list.\r\nChanged number of accomplishments from 54 of 89 to 55 of 89.\r\nTurned to Chapter 14 or \"Story Of My Life\" series.\r\nPut updates list in scroll window format.\r\n\r\n12/22- Added new view number to list: 19000\r\n\r\n12/16- Turned to chapter 13 of \"Story of My Life\" series.\r\nContemplating on putting updates list in scroll window format.\r\n\r\n12/15- Added new view number to list: 7777\r\nAdded new quote to list.\r\n\r\n12/14- Copied bio from previous Ningohongo Freak board to Nnew Nihongo Freak Board.\r\n\r\n12/11- Added new view number to list: 425524\r\n\r\n12/10- Added new view number to list: 424959\r\n\r\n12/8- Painstakingly fixed the \"spacing x2\" errors of bio.\r\nCause is from profile editing by staff.(Administrator)\r\nCorrected the \"Record Weapon Switches\" mispelling in sim battle statistics.\r\n\r\n12/2- Turned to Chapter 12 of \"Story of My Life!\" series.\r\nContemplating on fixing my \"spacy\" bio.\r\n\r\n11/14- Added 1 new Board Accomplishment to the list! \r\nTurned to Chapter 11 of \"Story of My Life!\" series.\r\n\r\n11/9- Created Profile Updates section!!\r\n

\r\n\r\n\r\n

People have visited my profile bio page
times!

\r\n\r\n\r\nWell, as you can see this my bio. Interactive content is what I go for. I don\'t always find things interesting to put in here but once in a while I do.\r\n\r\n\r\nNewest magic elemental created: Anti-Magic Elemental\r\nCurrent Spell Count Milestone:- 200+ Spells\r\n\r\nHere\'s a table of some spells that I\'ve created:\r\n

Magic Spells\r\nClick on a spell to view its description.

\r\n\r\n
| | | | | | | |
| --- | --- | --- | --- | --- | --- | --- |
| Fan | Windmill | Astael | Astral | Ion | N.A.H.B | Firestorm 2 |
| Ice | Ice 2 | Ice 3 | Ice 4 | Ice 6 | Sanctuary | Jet Flare |
| Proton | Rave | Fission | Fusion | Geyser | Grip | Sonic |
| Void | Crumble | Negative Fire | Ozma Blast | Star Blast | Spell Freeze | Fusion Negative |
| Cannon | Boulder | Blast Core | Neutron | Microwave | Solar Flare | Dreamful |
| Absolute Xero | Black Hole | Cyro | Degrade | Plasma Flare | Quasar | Static Field |
| Fissure | Heaven\'s Gate | Nova Blast | Oceania | Omega Blast | Prism | Taxt Utaht |
\r\n
---
\r\nSpell of the Moment\r\nA new spell is put up every week, so be sure to check back here.\r\nTo view past spells of the moment click the button.\r\n
\r\n\r\nSpell# 22 of 205-\r\n\r\nSand Stream- A long, thin and powerful stream of sand that pierces a target�s magic barrier.\r\n[Elemental- Earth]\r\n\r\nOf all the Earth elemental magic, Sand Stream is probably one of the most used spells. It is strong, long lasting and very effective at piercing through barriers that reduce magical damage or even block spells. In fact, Sand Stream was designed to have the piercing trait, allowing attackers to have means of easily defeating defensive opponents. This spell packs sand into a long and thin wavy beam that launches at the target. The smooth water-like flow and slight wave pattern of the stream mimics that of a piece of string blowing around in the wind. The sand for the spell is also acquired in one of two ways: it can either be drawn up from the ground, provided there is enough to sustain the total lenght of the spell, or it can simply be manifested through magic energy. There are rare instances in which Sand Stream is divided up into two or more streams of sand of equal size. Unfortunately, the power of the spell is also divided among each stream. It is currently not known how this happens, but at least it provides intimidation to those who have never seen or heard of the unusual phenomenon.\r\n\r\n
---
\r\n\r\n\r\n
\r\n\r\n\r\n
\r\n\r\n
\r\n\r\n
---
\r\nWhat if everyone suddenly got \"roid-rage\" at a bodybuilding gym? I can imagine a bunch of 45 lb weights being thrown across the room.\r\n\"Aw duude... they got delled.\"\r\n\r\nWeird and interesting view numbers gotten so far:(Xeogaming) Forums\r\n1575700\r\n1575705\r\n1756456\r\n42724\r\n956777\r\n1224333\r\n\r\n\r\nProjects and Ideas to come:\r\n\r\nSim Battle Challenges\r\nMy Grand RP\r\nLove Story RP\r\nBoard Cards Quest\r\n\r\n
---
\r\n\r\n*Board Accomplishments!*\r\n Highlight in orange all that apply!\r\nMy Score: 61/90\r\n\r\n

\r\nRegistered at 1 board\r\nRegistered at 5 boards\r\nRegistered at 10 boards\r\nRegistered at 20 boards\r\nOne of first 10 to register at a board\r\nStayed active at 1 board\r\nStayed active at 5 boards\r\nStayed active at 10 boards\r\nStayed active at 20 boards\r\nStayed active at 3 boards at the same time\r\nStayed active at 6 boards at the same time\r\nLeft and came back to board after 1 month\r\nLeft and came back to board after 3 months\r\nLeft and came back to board after 6 months\r\nMade only 1 post at a board and left\r\nMade 100 posts at a board\r\nMade 500 posts at a board\r\nMade 1000 posts at a board\r\nMade 2000 posts at a board\r\nMade 5000 posts at a board\r\nMade 10000 posts total at one or multiple boards combined\r\nMade a post in each hour of a day.\r\nMake 1000 posts within 1 month\r\nMade 10 threads\r\nMade 25 threads\r\nMade 50 threads\r\nMade 100 threads\r\nMade 200 threads\r\nMade 500 threads at one or multiple boards combined\r\nBeen in board run posting spree\r\nBeen in 5 board run posting sprees\r\nBeen in 10 board run posting sprees\r\nBeen in 20 posting sprees\r\nPass board owner in post count\r\nBecome Local Mod at a board\r\nBecome Full Mod at a board\r\nBecome Administrator at a board\r\nBecome Board owner\r\nBecome staff at multiple boards\r\nParticipate in 1 Sim Battle\r\nParticipate in 5 Sim Battles\r\nParticipate in 10 Sim Battles\r\nParticipate in 25 Sim Battles\r\nParticipate in 50 Sim Battles\r\nParticipate in 100 Sim Battles\r\nParticipate in 150 Sim Battles\r\nParticipate in 200 Sim Battles\r\nParticipate in 1 RP\r\nParticipate in 5 RPs\r\nParticipate in 10 RPs\r\nParticipate in 25 RPs\r\nParticipate in 50 RPs\r\nMade 1 RP\r\nMade 5 RPs\r\nMade 10 RPs\r\nMade 25 RPs\r\nGet a warning\r\nGet warnings at more than one board\r\nBecome temporarily banned\r\nBecome temporarily banned at more than one board\r\nBecome well known at a board\r\nBecome well known at multiple boards\r\n6 months of board time\r\n1 year of board time\r\n2 years of board time\r\n4 years of board time\r\nWon a monthly posting contest\r\nWon posting contest for 2 months total\r\nWon posting contest for 4 months total\r\nWon posting contest for 6 months total\r\nWon posting contest for 1 year total\r\nMet someone from a board in person\r\nMet more than one person from 1 or more boards\r\nHave multiple ideas implemented at another board(s)\r\nStayed up to midnight posting\r\nStayed up to 2 a.m. posting\r\nStayed up to 5 a.m. posting\r\nStayed up entire night posting\r\nGet view number of a 10,000 multiple\r\nGet view number of a 100,000 multiple\r\nGet view number of a 1,000,000 multiple\r\nEarn 1000 money on a board\r\nEarn 10,000 money on a board\r\nEarn 50,000 money on a board\r\nEarn 100,000 money on a board\r\nEarn 250,000 money on a board\r\nEarn 500,000+ money on a board\r\nMake very long bio\r\nChange post layout more than 3 times in one month\r\n

\r\n
---
Sample post
Cyro Xero



Rune Mage

Rave Atom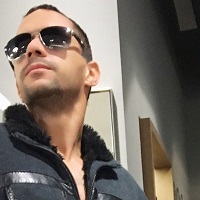 Since: 02-23-05
From: Minnesota!!

Since last post: 521 days
Last activity: 434 days

Posted on 12-31-69 04:00 PM
rn
---
rn
Originally posted by Cyro Xero

---

A sample quote, with a link, for testing your layout.

---
(sample text)

--------------------
rn

Spreading the soundwaves of trance musicrn
Simbattle Characters
rn
rnrnThis text isrnunclickable
xeogaming.org

AcmlmBoard 1.92++ r4 Baseline
?2000-2013 Acmlm, Emuz, Blades, Xkeeper, DarkSlaya*, Lord Alexandor*
*Unofficial Updates